With the year just start­ing and a whole lot of res­o­lu­tions being adhered to, I want to remind folks of a sim­ple truth. Not every­thing you read on the Inter­net (or on print media) is true. Let me rephrase that — most of it is bull­shit. Fit­ness and nutri­tion are mis­un­der­stood, with archaic ideas still being prop­a­gated. And in many cases, it is just hearsay.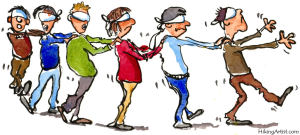 Fit­ness and nutri­tion are seri­ous top­ics with seri­ous con­se­quences. Make sure you inves­ti­gate, and val­i­date stuff and don't sim­ply try out the lat­est "cleanse diet" or "fat burner" or what­ever, just coz your neighbour's daughter's friend in the US tried out some­thing and "oh my gosh, lost a ton of weight!".
To recap. There's no magic pill. There's a lot of bull­shit. Stick to basics — eat real food, sleep well, move everyday.